I'm so happy to introduce you to Marty Walden of Marty's Musings.  Marty has been blogging at Marty's Musings since 2008 but only recently has managed to turn her DIY/home/food blog into a business. She  has homeschooled  her five children for 20 yearsa and loves DIYing with her husband Tim.
______________________________________________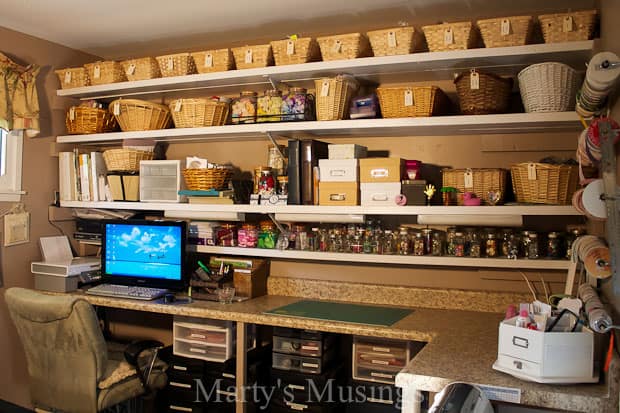 My husband Tim and I spent several weeks talking through ideas for my scrapbook room. I scoured magazines and online websites for inspiration and dreamed of how I could make these ideas work for me.
This is the main wall of my scrapbook room. My husband built the countertop and shelves according to my specific needs and scrapbooking supplies. My counter is waist high because I scrap and create standing up. There was much consternation over the exact height to make the counter! Luckily, we figured right and it is perfect! I bought a desk chair at a yard sale and it was a great buy and very comfortable.
This ribbon rack is one of my favorite storage solutions! I adore ribbon and have far too many rolls that I have gotten at yard sales and craft stores. I wanted to be able to see as much of it as possible because it inspires me and I use it often on cards and layouts.  My husband rigged the dowel rods and hooks. A perfect solution plus it's pretty to look at!
We also bought a twin bed with headboard from my niece and used a mattress and bedding we already owned. Drawers on the side give me more room for my ribbon stash! It seriously was taking over the world!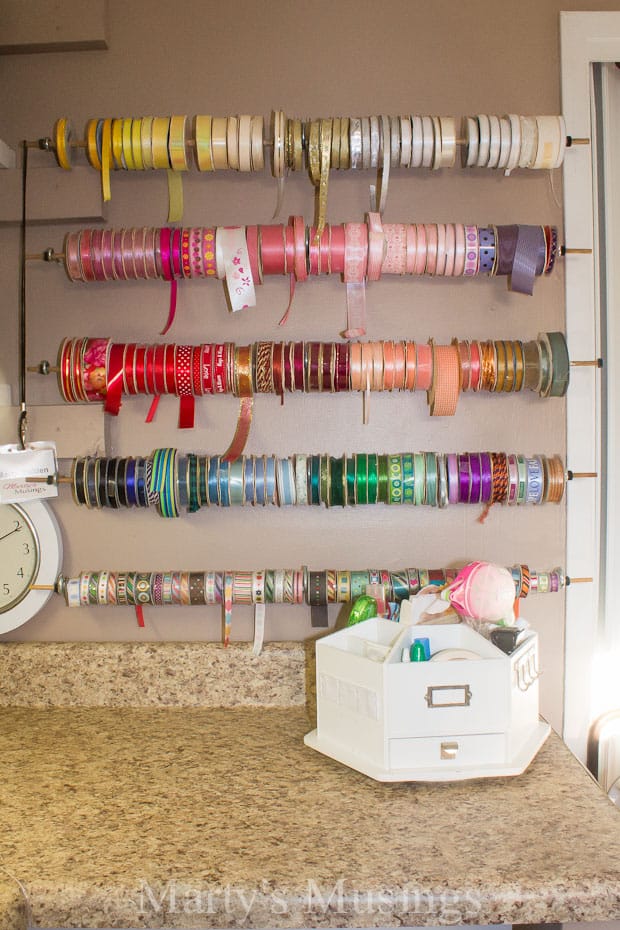 My scrapbook room's design ended up revolving around these two units I bought at Goodwill for $20 total (below).  The unit had 6″x6″ cubbies with removable partitions. I removed several of them to allow the units to be used for 12×12 paper. Absolutely perfect solution for my massive collection! (I am slightly paper crazy.) This also allowed smaller compartments at the top for some of my other supplies. We put the cubbies on top of 4 units I bought at Target several years ago.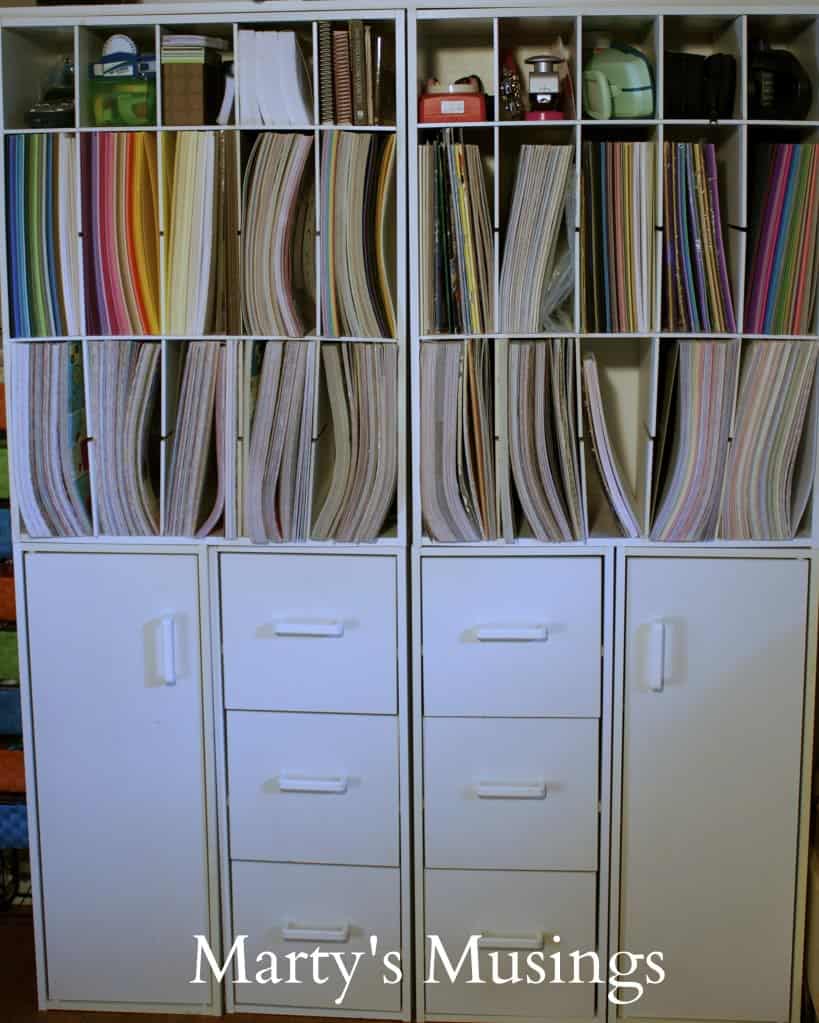 I love the look of open storage and accomplished that with these dollar store baskets and larger ones from yard sales. I used manila tags and a label maker on all of my baskets to keep everything organized.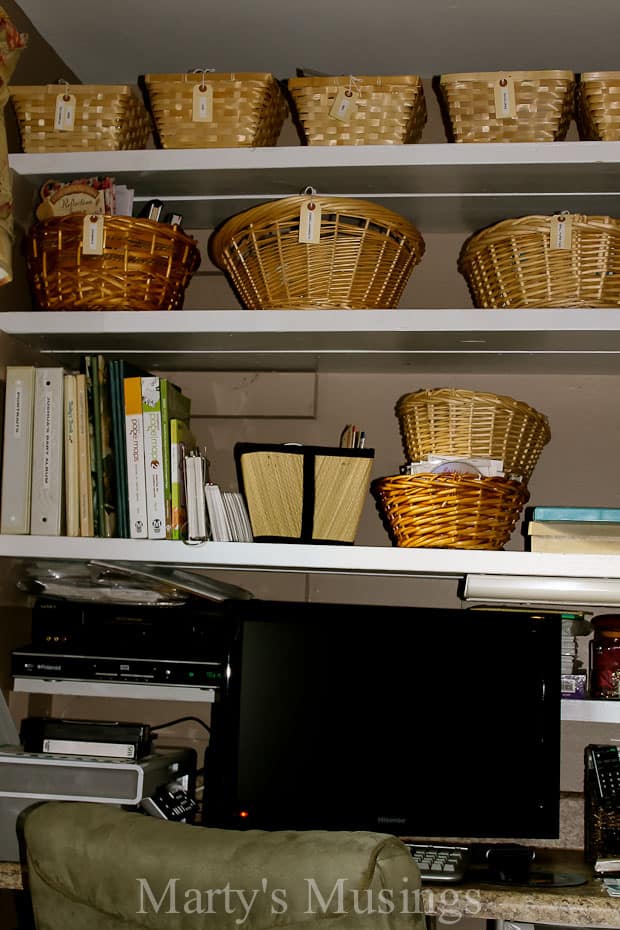 These smaller mason jars contain my button collection, separated by colors. I use everything from spice jars to quart size mason jars for ribbons, silk flowers, embellishments and more.
One of the ways I protect my scrapbook albums is to store them in a shelving unit near the front door. In case of a fire, I know what I will grab first! This post also tells more about how I organize my pictures and albums.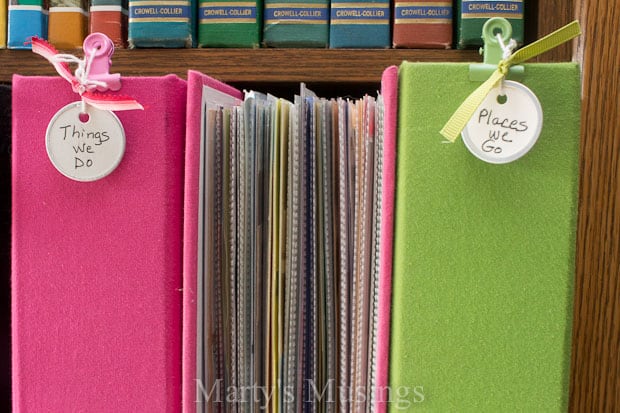 1. What kind of budget did you have when organizing your space?
I am a frugal shopper from way back, and I knew I wanted to save money while still creating a beautiful space for me to work. I shopped yard sales, thrift sales and the dollar store to save money wherever possible. We ended up spending a total of around $500 on the room makeover.
2. What was your greatest challenge?
Probably finding a way to store my growing collection of 12×12 paper! The cubbies we found at Goodwill worked perfectly.
3. Are you a "organize it once" kind of girl, or are your storage solutions constantly evolving?
I definitely like to be organized, but as my blog has become a job I find I am making a greater variety of projects and need to find solutions for different products. I love labeling and want my room to be beautiful as well as functional.
4. What is one thing you'd like to improve about your storage/organization?
I am actually in the middle of a room makeover! I was not happy with the way I was using the space, and I needed to rethink how I actually spent my time in the room. I have moved some things around and am adding an area to shoot photos for my blog. Yes, my organization is always revolving to find a system that works for me!
_________________________
Did you see a organizational method you can put to use in your own space?  I'm loving those shelves!  To see more of Marty's space and her work, please visit her at Marty's Musings.