Many of us that craft have a lot of small bits and pieces to store and organize. I scrapbook and make jewelry and for both types of craft I end up with a lot of little supplies. One of my favorite storage solutions are hardware storage boxes. They are easy to find at pretty much any home improvement store and some mass retailers.
I love these because they are easy to find, relatively inexpensive and can be customized. I have spray painted mine with spray paint especially made for plastic to match the decor of my craft room. The clear drawers are perfect for seeing what is inside. Adding some labels to the front makes it even easier to find what you are looking for. You can sort your supplies by color, item type, etc. I have one I use for chipboard letter storage and have a drawer for each letter.
Here you can see Craft-O-Rama using one hanging on the wall to store small embellishments such as brads, eyelets and flowers.
Indie Color uses hers to store all her different colored beads.
Here is an example of one of the grey standard hardware storage boxes being painted white with plastic spray paint to fit in with the decor at SevenTwoThree. I think this whole room is beautiful and the drawers blend right in.
Lastly, Shannon at Madigan Made, uses one for stamp storage. I love how she made colored cut outs for each drawer. Such a fun addition to her craft space!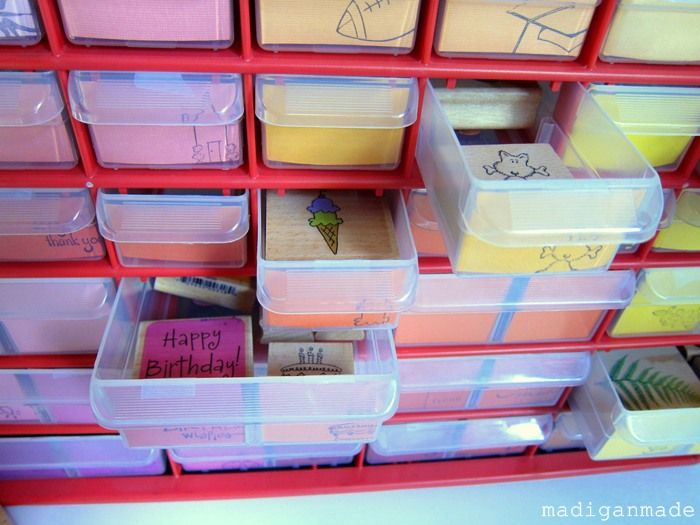 These units can be stacked and placed on a shelf, or you can even hang them on the wall. They are so versatile!