Studio Tour: Jonathan Fong Style
Hello all, this is Suzanne here with my very first Contributor post for CSI! I have an amazing studio tour to share with you today. While perusing through Pinteret, I scrolled onto a studio so bright and cheery, it immediately caught my attention. If you LOVE color, then you will find plenty of inspiration in Jonathan Fong's Studio.
While there are many elements that caught my eye in this creative space, the most intriguing is the wall of colorful cabinets.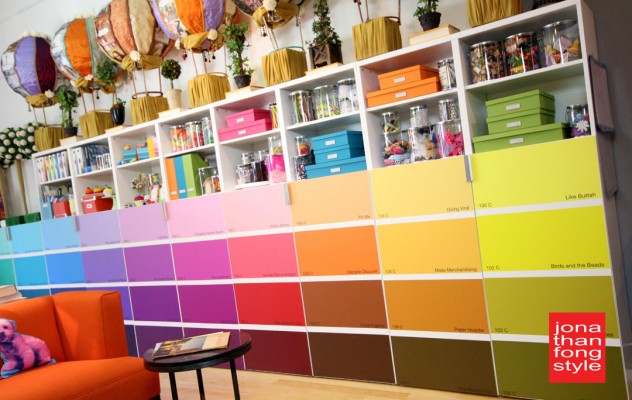 Using Ikea Besta cabinets, Jonathan turned the door fronts into giant paint chips! Each "painted" panel is actually a peel-and-stick mural that he had made to match the door fronts. Since his murals are easy to apply and remove, he has the freedom to change the colors and styles as he sees fit.
While the paint colors are matched to actual Pantone colors, Jonathan chose his own names for each color, creating a personal vision board for his space. He even has a matching paint chip mirror that he created for the studio!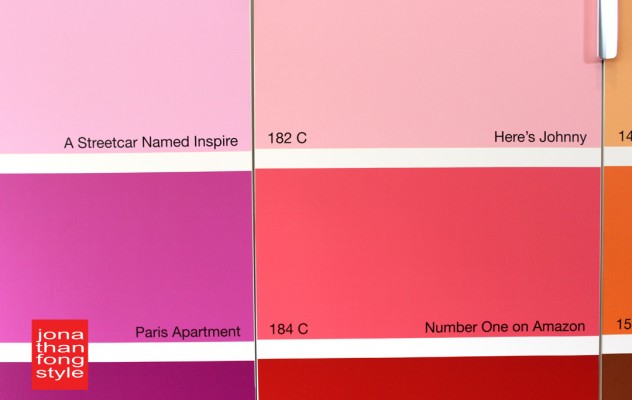 For some clever storage, he uses clear paint pails to match his overall studio theme.
Jonathan's studio includes some great storage inspiration, from the clear, stacking paper trays in his Expedit shelving, to the adorable ribbon tower next to his wrapping supplies. Did you notice the "rug" in the center of his room? It is actually artificial turf! A very creative alternative to carpet.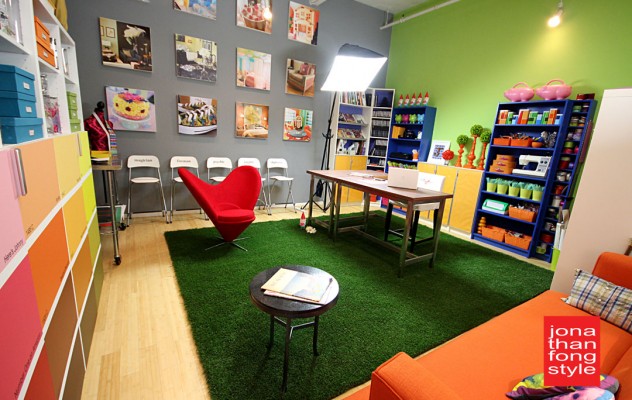 A big thank you to Jonathan Fong for allowing us to share a tour of his unique studio. You can see more of Jonathan's studio, storage, and creativity here. Have a look at the additional pictures on his blog, you won't be disappointed!