Hi there! My name is Noelle McAdams and I am really excited to be bringing you my first ever post for Craft Storage Ideas! Today's post is about a ribbon re-do. After I show you how I reorganized and cleaned up my own ribbon mess, I'm going to show you some other pretty options for ribbon storage from around the web. Let's get started!
When Rebecca asked us what topic we'd like to tackle first, I knew IMMEDIATELY what I'd like to fix about my crafty space. My ribbon/twine/fibers were a MESS. I had about 8 different ribbon storage "systems" and places that it would land. I love ribbon, and have collected quite a bit of it through many years of crafting. Some on spools, some in plastic bags, some wrapped around little embroidery floss cards, some gathered up into little bundles and taped…. NONE of it easy to find or access, plus it was giving my small space a very messy vibe. Here's a picture of it all spread out "before" for you.
Ick, huh? I mean my ribbon topiaries were cute, but didn't hold very many spools. I'm sad to see them go, but someday when I have a bigger space, I can always make some more. I had the compartmentalized box of embroidery floss cards with ribbon wrapped around. It always came off of the cards really kinked up, and that required an additional step of ironing it before I could use it on my projects. I had another plastic box full of various sized ribbon cards. Another ribbon box for medium sized spools… I had so many different containers, and not a single one of them was working for me the way they were being used. I had to dig around and make a huge mess just to find what I was looking for. I decided my new system needed to be five things:
Space savvy. My room is tiny and I share it with my kids and a giant computer desk.
Attractive. I wanted something that was nice to look at, aesthetics are really important to me.
Easy to replicate. Just in *case* my ribbon stash keeps growing…. 😉 I didn't want to buy 6 ribbon-specific boxes and then in 6 months not be able to get any more of the same ones. Or have one size of spool not happen to fit in the boxes.
Affordable. Looking at all the money I had already spent on storage that wasn't working, I didn't want to waste another penny. I'd rather buy more ribbon!
Easily accessible. I wanted to be able to find what I was looking for at a glance. While in the past I'd organized my ribbon based on sizes of spools, this time I wanted at least part of my system to be color coded, so I could find the shade I was looking for easily.
After looking around a bit on Pinterest, I found two ideas: this one:
and this one:
These were my jumping off points for my new system. I am so happy with the way everything turned out, too. All the spools and large ribbons were stored on these multi-tiered closet hangers. Each "arm" on the hanger is hinged and swings out, so it will be easy to remove empty spools and add new ones. These were 5.99 a piece at my local Target store. You can find them in the closet section, near the regular hangers. I already have a hanging bar in my space, and there was extra room on it to add these, so it worked out beautifully!
*A tip: If you have something you really want on a spool, but don't have a spool that will fit it, use a toilet paper or paper towel roll instead. I did that with a few of my wider ribbons, and it worked beautifully. Plus, it was FREE!
For all (and when I say all, I really mean **ALL**) of the rest of it, I decided to go with simple clothespins. I had seen that above photo on Pinterest (yes I know I have WAY more than 12 of them like the above photo! LOL!)
I pinched one end of the ribbon/twine/fiber in the lower part of the clothespin, right above the hinge. Then I wrapped it around and around until it was almost all the way wrapped. Then I opened the clothespin just a little, enough to catch the last bit of the ribbon tail in the top of the clothespin. Here are a few benefits I noticed about the clothespin system that I am really digging on:
I  was able to use the clothespins for several different types of material. Ribbon, fibers, and twine all worked extremely well with these! I don't have any yarn, but it would work well with leftover yarn pieces, all you knitters and crochet junkies out there!
Clothespins are cheap. I had some in my laundry room, but when I ran out, I paid only around 3$ for 150 clothespins. They are also very easy to find if I need more! I would say, who needs more than 150, but I know I might well need more someday!
They take up very little room. I could have fit all these into one small bin, but I split it into two, simply so I could see things easier.
I noticed that even though the first few wraps of the ribbon are around the squared off clothespin, very quickly the wrapping became round like a spool. I think I'll have a lot less kinked up ribbon with this system.
This was really fast and worked with all the bundles of ribbon, cards of ribbon, ribbon I'd bought in yardage that had no spool, etc. If it's really bulky, you could always cut your length in two, and split it between two clothespins.
I don't have to use straight pins to hold the end of the length. I hate getting poked! 😉
I used this cute two tier metal container to hold my twine, fibers, and those teeny spools of ribbon that I just felt were too cute to unwrap! I had already been using this for ribbon, so it didn't cost me anything. I have a lot of vintage pieces in my craft studio and even though this is not really vintage, I love the look of it.
Really I didn't get rid of much ribbon at all. It was consolidating it onto the small clothespins that made all the difference. I can't believe how much space that saved! Plus, by hanging the spools instead of storing them in boxes and bins, I saved a LOT of precious "flat space" in my studio, and I can see it all much better to boot!
A little "I learned it the hard way" tip I learned from my old, ineffective system….*Do NOT bundle your ribbon and use transparent tape, or tape the end instead of pinning it. I can't tell you how many gummed up bits of ribbon I found. 🙁
Try a system that will grow with you as your storage needs change. I know that any more ribbon I buy will need to fit on these hanging organizers or be wrapped on clothespins. If I need to expand, I can always buy another closet organizer like this, or wrap more clothespins. This system is effective, affordable, attractive, and can grow with me as my needs change. I hope you like it too. But, if this isn't the perfect system for you, here's a few more photos that might help you figure out what will work best for you.
Isn't this tic tac box one adorable?
 Love the handy ribbon bar above this craft space:
 What could be better than turning your ribbon into art by framing it?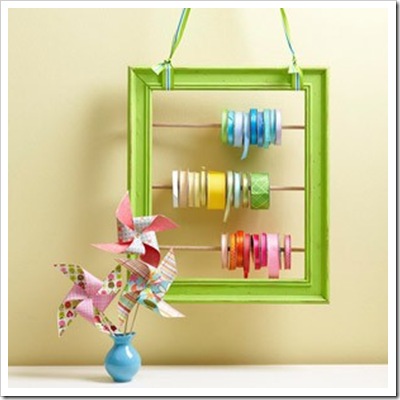 Thanks for popping by Craft Storage Ideas! See you again soon. 🙂