Hallo, it's Hazel from Sunny SA and I'm back to share my storage solution for photos and memorabilia with you – PROJECT LIFE!
I've been struggling to get a system in place which can accommodate all my photos, memorabilia, souvenirs, journaling and notes.  It took a few years and I've been very, very anti Project Life the whole time but finally last year I gave in.  The reason?   My family.  They like my crafting projects but they LOVE my albums and I do believe that they will keep that to share with their children and grandchildren. That's why we do memory keeping isn't it?
So I invested in the Clementine collection from Becky Higgins and this is what I got:
At first I felt intimidated by the 4 x 3 slots and the idea of finishing a double page every week.  So, I altered my strategy.  I convinced myself that this is an old album. (Remember the ones with the sticky pages?) When I did those (many, many moons ago), I didn't care if everything was in chronological order or dedicated to only one event – I just kept going and to this day I love to look at them.
Now, this is what I do. I choose a page protector and as stuff happens, I add pictures, dates and journaling – no weeks for me.  I keep the page protector in a drawer of my craft desk and when it is filled, I add it to my album and get another one out. When I print my pictures, it is easy to see if they should be portrait / landscape / 6×4 / 3×4 or another size.
There is a huge range of  page protectors. I got these: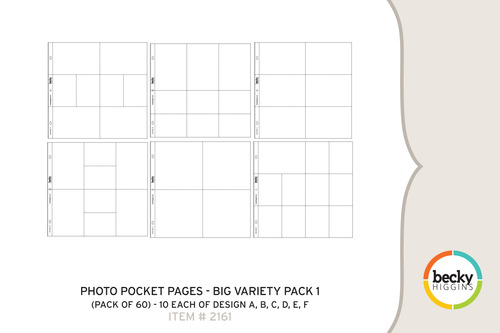 You get other sizes as well – 6×12, 8×12 or you can even use protectors from other brands, ordinary PVC sleeves that you get from office shops or make your own.  If you want to try making your own – I got this via Pinterest. The original post was done by Waleska on the Studio Calico blog. I love a layered look and the smaller pages are not as daunting as a 12×12.
For memorabilia, I use this envelope:
I have only one in my album and I keep stuff in there for a week.  If it hasn't been used, I don't need it and it gets thrown away.   I'm also including mini albums and 12×12 layouts in my album as I love doing them and if I spend time and money, I want to keep it where everyone can enjoy them for years to come. In future I plan to include a monthly multi media gratitude project as well.
Another thing that works for me is to do some of the ground work before I print my pictures.  For that I bought a digital kit.  There are a lot of them available here and I bought this one:
When I'm running out of time, I revert back to a page with 6×4 slots and do the journaling on the pictures digitally.  Then, everything gets printed, slotted into the page protectors and filed away.
There you have it. MY LIFE, MY WAY!  What works for you?? I would love to hear. Please leave a comment and we can all share in your fun. Thanks for visiting Craft Storage Ideas. Have a great day!