We are so happy to welcome Brandy from Gluesticks!
Brandy is a  mother of four and the wife to a member of the US Coast Guard. Having grown up with creative influences around her, she developed a love and appreciation for all things homemade. Every woman needs an outlet and Gluesticks is hers. On Gluesticks you will find crafts, recipes, kids activities and step by step tutorials for every skill level.
Let's give her a warm welcome!
_________________________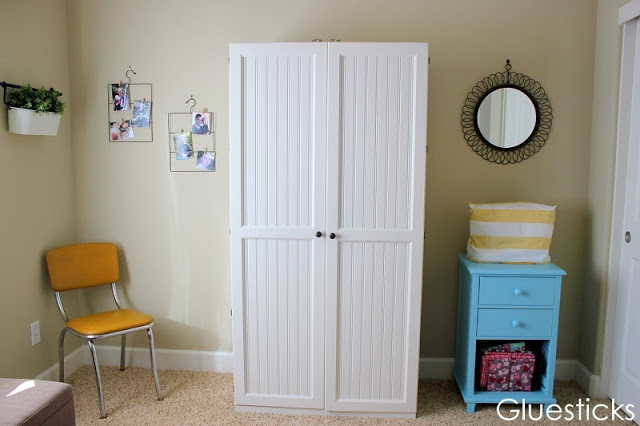 Welcome to my home office/craft room/guest room. Yep, it has a lot of functions.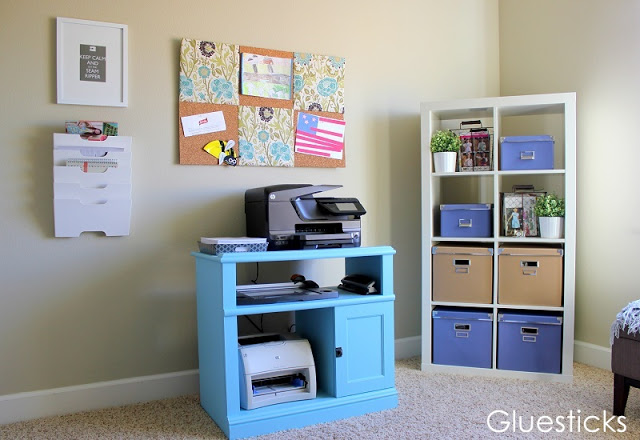 Originally this room was going to be our guest room. Complete with a full size bed and everything my grandmother would need when she came to stay with us on occasion, but then we realized that we don't have family come see us often, so I decided to not buy a bed, but create a space with room for a queen size air mattress when needed. I placed the furniture against the walls and will pull out the ottoman box under the window when we use the Aerobed air mattress. There is plenty of clearance in front and space in front of the closet and walking space around the sides. It isn't a very roomy guest room, but we had to maximize the functions and prioritize in this small space.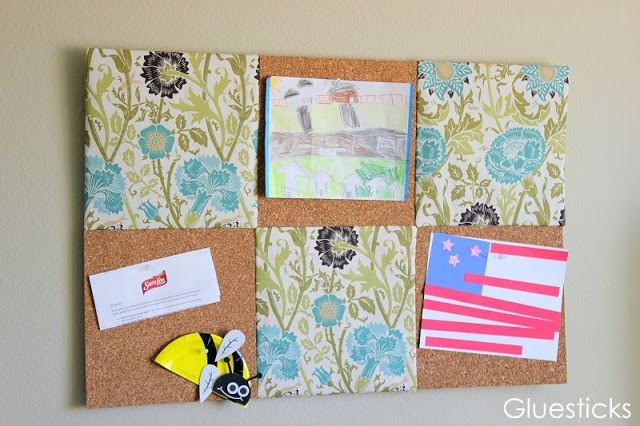 (details on my message board
here.)
1. What kind of budget did you have when organizing your space?
I didn't set a budget for this project because I am pretty frugal to begin with. My room is a mixture of old and new. Re-purposed and purchased. The sewing machine stand and printer stand were both headed to the trash when I decided to give them another life. You can find details on that project
here
.
Most of the accessories were purchased from IKEA and Pick Your Plum. The white bookshelf is also from IKEA.
The crowning jewel of my room is my Craft Box. The Original Scrapbox is a sponsor of Gluesticks and so I worked out a deal with them with cross promotion.
These strategies kept the cost for my room to a minimum.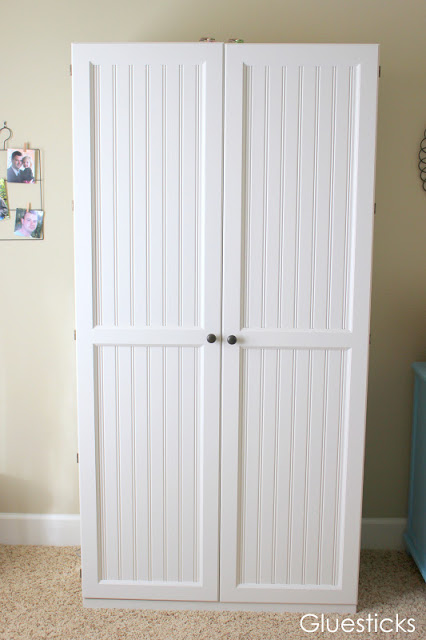 2. What was your greatest challenge?
My greatest challenge was storing all of my creative supplies AND still being able to have room for a guest bed, when necessary.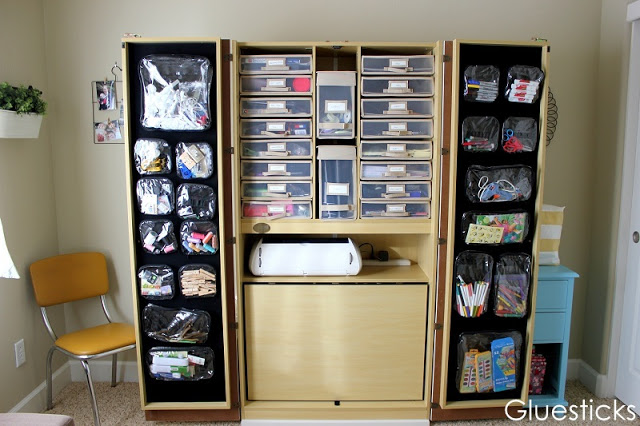 I can store all of my sewing notions and supplies as well as my craft necessities.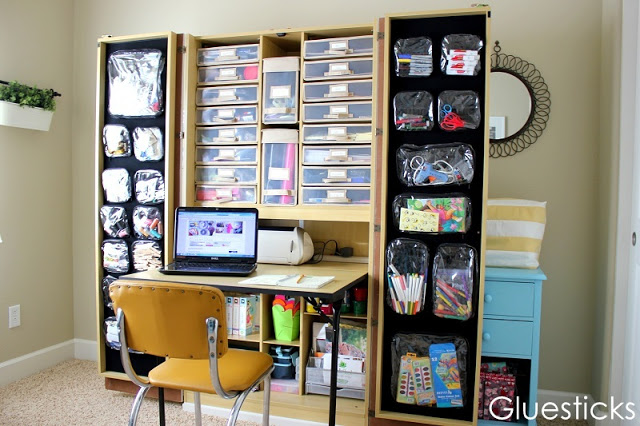 When I am not crafting or sewing, I can use my table for my home office. When I'm done, I close it all off and it looks like a beautiful armoire. Stay tuned for more details on my Craft Box and a it's functionality. It is simply extraordinary.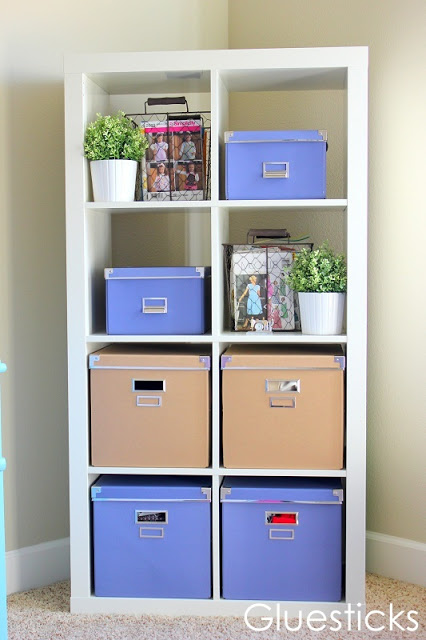 3. Are you a "organize it once" kind of girl, or are your storage solutions constantly evolving?
My storage solutions are constantly evolving. My craft box will not evolve. It's functions will remain the same. However, This storage cube came from IKEA, along with the boxes. These are great because they are inexpensive (2 for $10), large, and hold my fabric! BUT…as the months have passed (and it's been a year since I decorated this room) I am realizing that I am accumulating way too much fabric. I am going to have to either buy more boxes and take over the rest of the cubes and maybe the top of the book case as well, or come up with another organizational solution for my fabric.
4. What is one thing you'd like to improve about your storage/organization?
I would love to improve the storage area for my kid's craft supplies. They have almost as much as I do! They also have taken over my craft box,
as seen here.
Ha! Do your kids do this too? A lot of their supplies are in boxes in the closet and are easily forgotten. I pull them out and rotate them in a basket on their craft table every so often, but I would love for the kids to be able to access them easier. I am working on this!
__________________________________
Don't you love her space?  And I really like seeing a craft box in action!  What was your favorite part of Brandy's room?  Show her some love!  And don't forget to visit here Gluesticks!