Craft Storage: Recycle, Re-Purpose & Re-Use – Locker Love
Craft storage inspiration is everywhere…even in schools!
Hello, fellow craft storage enthusiasts,
Once again it's Hazel, all the way from sunny South Africa (SA) here with you today.
About a year ago I did a post for Craft Storage Ideas on Ali Edwards' studio.
What I loved most about her room was this:
Craft Storage Ideas Post: Ali Edwards' Studio
Lockers!
As both our "boys" are all grown up and "sorted," we are seriously downsizing.
Even though we don't need that much living space, I'm still a HUGE crafter and my husband is a DIY fanatic.
This means utilizing every possible space in a pretty and effective way.
Another important thing to me is to recycle, reuse and re-purpose.

Today I'm sharing re-purposed storage lockers with you.
Grab a cup of coffee (or tea) and hop along through Pinterest and Blogland with me.

In this HomeTalk post on re-purposing lockers you can read all about the transformation of these old-school lockers:
HomeTalk Post on Re-Purposing Lockers
Oh, I just LOVE red!!!
Apartment Therapy Post on Locker Storage Ideas
What about Blackboard Paint?
Storage and notice board all in one:
The Cottage Market Post on Upcycling School Furniture
Be sure to check out ALL of the ideas they shared – Steph's drooling over the library drawer cabinets!
Just look at this colorful set of lockers!
Even if your junkyard-find has lost some of it's doors through the years, or you don't care for the doors, all is not lost:
Jamie Scott (Caught in Grace Blog) Repainted Locker Share
I love these stenciled numbers!
You will see that I'm going to use this idea!!
Stylish Patina Re-Purposed Lockers Ideas
Even if your lockers have lost ALL of their doors, here's an idea:
The Cottage Market Post on Upcycling School Furniture – Locker Idea #2
And if you don't have wall space to fit a whole set of lockers, a coffee table version can add extra storage: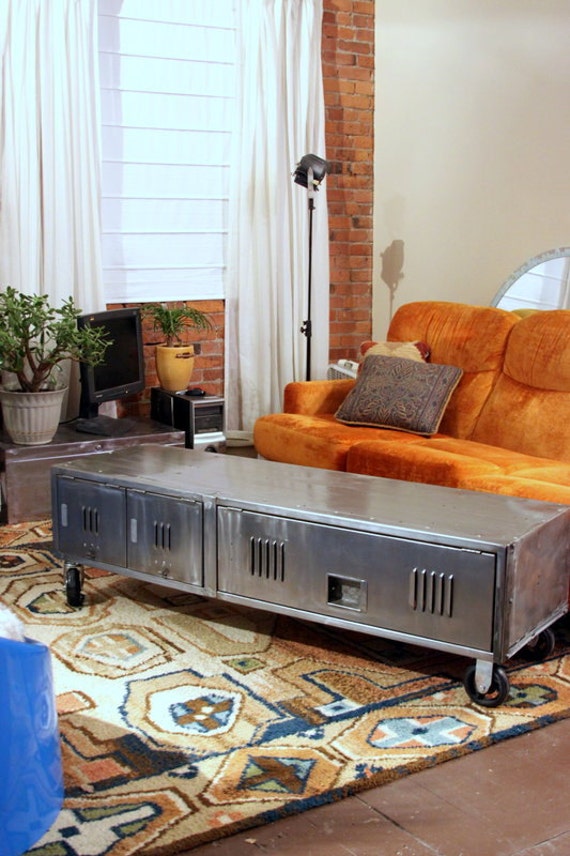 ArtspaceIndustrial (Etsy Seller) Re-Purposed Vintage Locker Coffee Table
That's it from me.
I hope you enjoyed our locker-love appointment.
You are welcome to check my Instagram feed to see when my lockers are stuffed with all the fabric in my stash.
Until we meet again, have fun, store your stash and if you have ideas to share, use #craftstorageideasblog on Instagram / leave a comment – we'd love to see what you do!!
Hazel

Love the ideas we share
and don't want to miss a single one?
Subscribe to our blog feed –
you'll always be the first to see what we're sharing!