I love seeing how people re-purpose their trash into useful and decorative storage. Here are some clever ideas to inspire you:
This great idea for twine storage, from The Scrap Shoppe Blog  started out as lowly empty Pringles containers:
A variation on this theme from Pinterest, some re-purposed cans, make a cute desk storage unit. I love the mix of  patterns. These would be great made with different patterns from your favorite paper line:
Some more re-purposed tin from Pinterest, this time mounted to the wall. I love this idea for the craft room – particularly if your desk space is limited.  You could cover them with patterned paper or not:
This idea from Country Home uses empty cans covered with vintage labels printed on the computer. I love the idea of punching holes in them for the wires and hanging them on the rack:
From Puppy Love Preschool blog come these adorable altered jars – would love a set of these on my desk:
Here simple jars wrapped with paper scraps become pretty desk storage for paintbrushes and pens (from Stampington and Co.):
Another clever re-purposed jar idea, this one from Curbly blog , uses washi tape to dress up cast-offs:
This cute idea up-cycles mis-matched vintage tea cups and dishes for drawer storage that would be great for small embellishments. I'd actually glue these to the drawer bottom to prevent them from sliding around:
Another drawer storage idea, from Upcycle the Gift blog,  uses cereal boxes cut and covered with patterned paper. Great modular storage with limitless possibilities!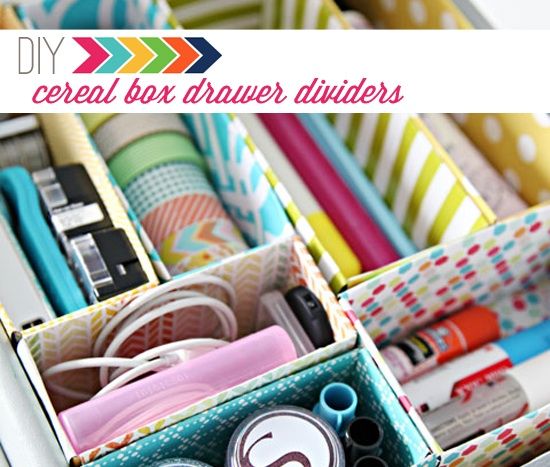 Hope these ideas inspire you to re-imagine your cast offs and put them to good use in your craft space!